ELEVATE YOUR CULINARY EXPERIENCE WITH STELLA ANGELO HUGO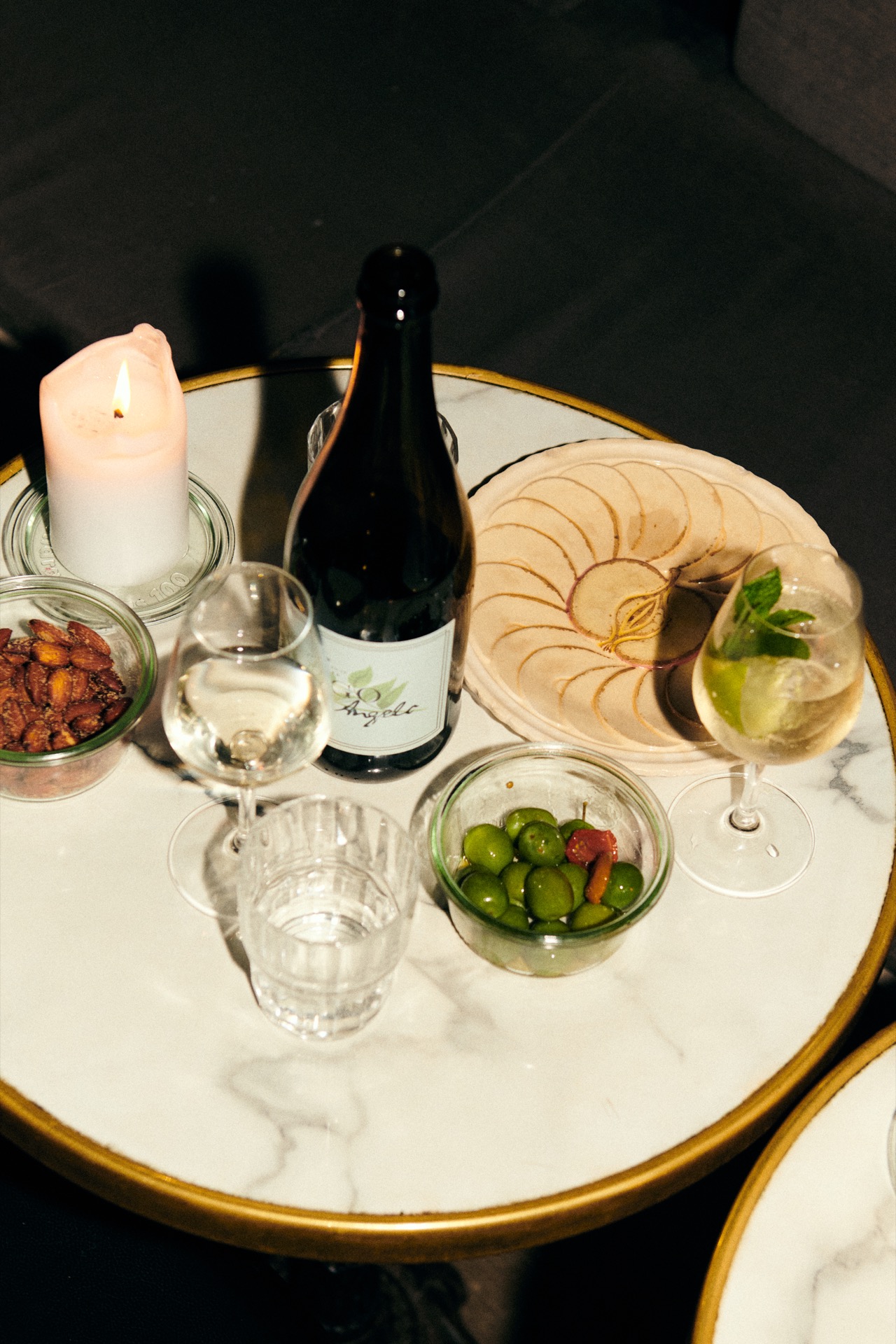 ELEVATE YOUR CULINARY EXPERIENCE WITH STELLA ANGELO HUGO
AT STELLA ANGELO, WE UNDERSTAND THAT GREAT FOOD AND DRINK ARE ESSENTIAL FOR ANY CELEBRATION. THAT'S WHY WE'VE CREATED OUR DELICIOUS HUGO APERITIVO, A REFRESHING AND BUBBLY DRINK THAT'S PERFECT FOR SIPPING WITH FRIENDS AND LOVED ONES. WHETHER YOU'RE HOSTING A DINNER PARTY OR ENJOYING A CASUAL MEAL, HUGO IS THE PERFECT COMPLEMENT TO YOUR FAVORITE SOUTHERN EUROPEAN DISHES. HERE ARE OUR EXPERT TIPS FOR PAIRING HUGO WITH DIFFERENT TYPES OF CUISINE:
01. ANTIPASTI: THE VIBRANT AND FLORAL NOTES OF HUGO COMPLEMENT THE RICH FLAVORS OF CURED MEATS, MARINATED VEGETABLES, AND ARTISANAL CHEESES THAT ARE TYPICALLY SERVED AS ANTIPASTI. THE CARBONATION IN HUGO HELPS TO REFRESH YOUR PALATE BETWEEN BITES, MAKING IT A GREAT CHOICE FOR STARTING A MEAL.
02. FRUTTI DI MARE: HUGO'S LIGHT AND ZESTY FLAVORS MAKE IT AN EXCELLENT PAIRING FOR SEAFOOD. THE ACIDITY OF THE DRINK PAIRS WELL WITH THE SALTINESS OF THE SEAFOOD, CREATING A PERFECT BALANCE OF FLAVORS. TRY IT WITH A PLATE OF GRILLED CALAMARI OR A CLASSIC LINGUINE ALLE VONGOLE (CLAMS).
03. FORMAGGI: SOUTHERN EUROPE IS KNOWN FOR ITS DIVERSE AND FLAVORFUL CHEESES, AND HUGO PAIRS BEAUTIFULLY WITH MANY OF THEM. FOR A CLASSIC PAIRING, TRY HUGO WITH A PLATE OF AGED PECORINO OR CREAMY GORGONZOLA. THE SWEETNESS OF THE DRINK COMPLEMENTS THE SALTINESS OF THE CHEESE, CREATING A HARMONIOUS BLEND OF FLAVORS.
04. INSALATE: IN THE SUMMERTIME, LIGHT AND FRESH SALADS ARE A POPULAR CHOICE FOR A REFRESHING MEAL. SERVE HUGO ALONGSIDE A SIMPLE CAPRESE SALAD OR A MIX OF ARUGULA, FENNEL, AND SHAVED PARMESAN. THE FRUITY FLAVORS OF HUGO HELP TO BALANCE OUT THE BITTERNESS OF THE GREENS, CREATING A REFRESHING AND FLAVORFUL COMBINATION.
NO MATTER WHAT YOU'RE SERVING, HUGO IS THE PERFECT WAY TO ELEVATE ANY MEAL INTO A CELEBRATION. SO GATHER YOUR FRIENDS, AND RAISE A GLASS TO GOOD FOOD, GOOD DRINK, AND GOOD COMPANY!